Agonizing the Coffee Table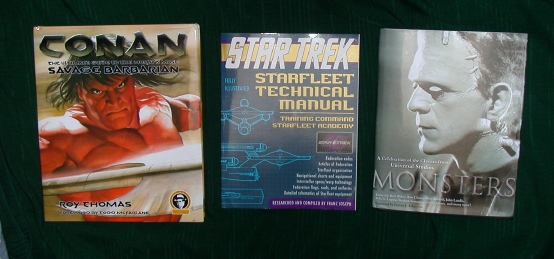 A trio of coffee table books for those who like SF&F and actually own coffee tables.


Some books make me wish I had a coffee table. Alas, long ago, ours was called into service as the final resting place of a famous labor personality. At least, that's our story and we're sticking to it. But were I to have a coffee table, some recent arrivals to the Rolling Shelves would certainly find a home there. 'Conan: The Ultimate Guide to the World's Most Savage Barbarian' by Roy Thomas (DK Books ; September 2006 ; $24.99) and 'Monsters: A Celebration of the Classics from Universal Studios', with a Forward by Forest J. Ackerman (recipient of the Big Heart Fan award at this year's Hugo Celebration) (Ballantine ; October 3, 2006 ; $29.95) and the you-can't make-it-go-away 'Star Trek ® Star Fleet Technical Manual', (Del Rey / Ballantine Books Trade Paperback Reprint ; September 6, 2006 ; $17.95) "researched and compiled" by Franz Joseph all demonstrate different approaches to creating the perfect coffee table book for the typical Agony Column Reader. Which one or ones you'll like will depend upon what you demand from a coffee table book. And of course, whether or not you have a coffee table.


Many an SF fan cut their teeth on these here books. Or at least, I did.
First, I'm going to jump in the wayback machine to take a look at the future as seen through the lens of the past; of course, I'm talking 'Star Trek: Star Fleet Technical Manual'. While the series is celebrating its 40th anniversary this year, in fact, just about this day, the manual is a mere 31 years old, and it shows. But let me tell you this. It was the first of the three nabbed and carried into the, er, facilities by teenaged and twenty-something young adults. Take note, publishers who are trying to create a new generation of readers. This might be the route to go, especially if you bundle in these 'Star Trek: The Animated Series: Star Trek Logs', Logs 1/2. 3/4, 5/6, 7/8 and 9/10 by Alan Dean Foster (Ballantine ; September 5, 2006 ; $13.95 Each pair). I was of a generation that cut its teeth on Foster's work. Who do you think was out there buying novelizations of 'Dark Star'? There's no reason to believe that this generation won't find them as compelling as, for example, Vice City, except that the Star Trek books lack explicit sex and require that one read them.

That's not really the case with 'Star Trek: Star Fleet Technical Manual'. Well, no explicit sex, but then again, not a lot of reading, either. No, lots of illustrations here, kind of crude, with some text that, were you to read it, might transform you into a UN Diplomat as surely as Lon Chaney transformed into the Wolf Man and probably more frightening to witness. That said, the circular-command, push-button, mini-skirted future of the original Star Trek certainly has lots of appeal, whether it be historical or actual. The manual will for some of us be a journey down memory lane, and for others of us a journey down WTF?!?!? Lane.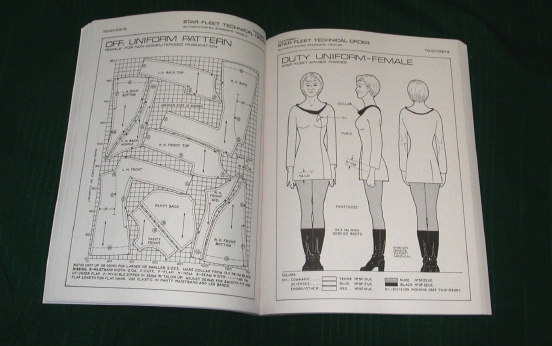 Star Trek Tech Manual goes where many men have gone before – women's clothing design!


From the Federation Codes, nicely laid out in ALL CAPS, BLUEPRINT STYLE LETTERING to the three, count 'em three almost-identical versions of the DUTY UNIFORM, FEMALE (she's firing phasers on kill and then hitting the disco, in style!) 'Star Fleet Technical Manual' is one of those very odd exercises in fictional non-fiction that tells more about times in which the book was written than anything else.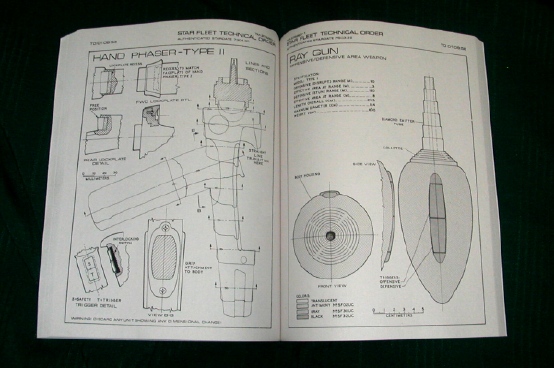 Blenders on stun! Toast that damn alien, then serve him up with a nice side of truffles.


And in what other books can you simultaneously experience the thrills of nostalgia with the thrills of seeing a blueprint for a phaser that looks more like a modern kitchen appliance than a weapon of war. And that is precisely where the legacy of the 'Star Fleet Technical Manual' is to be found, at Bed, Bath and Beyond, not beyond the final frontier.


Babes and monsters, it doesn't get any better than this, unless of course, you're a woman, then they've got the Conan the Underwear Model illos for you.
REH Seal of Approval.
'Conan: The Ultimate Guide to the World's Most Savage Barbarian' by Roy Thomas is by comparison an exercise in excess glamour and perfection, as one might expect from the esteemed DK imprint. Since everything in the damn world is a commemoration, because our memories are apparently shot to hell from playing too much Miami Vice City (wait -- I'm getting my decades mixed up!, well whatever), this book too is in commemoration – of Robert E. Howard's 100th birthday, which is also the tagline of this year's World Fantasy Convention. Unlike the austere settings for 'The Star Trek Star Fleet Technical Manual', 'Conan' is crammed chock-a-block with more styles and samples of illustration that you might find in any major metropolitan art museum. Sometimes on one page. After a forward by Todd McFarlane, 'Conan' gets down to business, pretty much documenting the life of our favorite hero in a chronological manner. The art veers between total comic book (on super nice slick paper) and various shades of the styles pioneered by Fran Frazetta. This a well-thought out book that will please those who want to actually see Conan, which is probably at this point a majority. But for me...


Painterly Conan meets comic-book Conan and they both look pretty peeved about it. Great DK-quality book design rules, however.


I first encountered Conan when I first started reading SF&F, as a typical adolescent male. At that point in history, there were no Conan comics or movies or TV series or anything but the books. (If there were comics, I wasn't allowed to or really interested in reading them.) So for some (mumble-mumble) years, I've lived with the Conan in my head. Seeing Conan illustrated on the page is really rather jarring for me. I can't connect the image on the page with the image in my brain. The image on the page inevitably looks embarrassingly like an underwear model. With this hard-wired disconnect in place the whole book acquires a certain distance that is probably applicable to a fairly significant number of people, but not the audience of this book. That said, I do enjoy paging through it to checkout the monsters and settings. And my experience of Conan –shudder to think, I read the books! – is probably no longer that of the general population. So, yo, GP; you lookin' for some Conan, you got it here. Though my favorite illustration is the silhouette of REH on the front cover in a gangster hat. Looks like he's ready to punch out some bad guys. Probably the folks who turned his barbarian into an underwear model.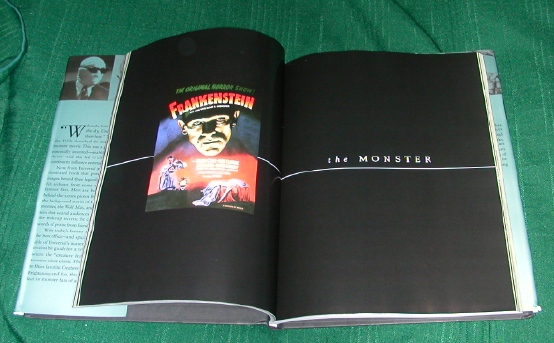 The monster, indeed. A gorgeous book that will impress visitors and not frighten them.



And then, there is 'Monsters', the real art book in this particular pack. That is, all of these books feature art, but 'Monsters' is sort of the class act, with a museum-like presentation of photos of our favorite classic monsters from the Universal movies. Frankenstein, Phantom of the Opera, Dracula, Bride of Frankenstein, the Mummy, the Invisible Man and the Creature of the Black Lagoon are all to be found here, with essays by folks like Rick Baker, John Landis and even Stephen Sommers. If I thought that 'The Star Trek Star Fleet Manual' was austere (and in a blueprint manner, it is) this is beyond austere and well into elegant, the classiest photo book of monsters you're likely to find on any coffee table. It's pretty interesting as well, visually, because you'll realize just how far things have come and haven't come.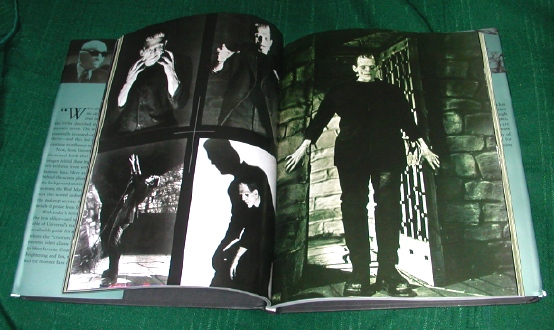 All the monsters in this book cast a huge shadow over our collective psyches.


On one hand, some of these creations look timelessly gorgeous, and on the other hand, some of the photos verge on blurry. I think that's just the result of the inferior technology of the time rendered with today's precision printing, the same sort of thing that you hear on CD versions of older music. But soft edges do add buckets of atmosphere. And that's what this book, indeed all these books are about: buckets of atmosphere.

These are not books that you really sit down and read cove to cover. They are books you'll page through now and again, though the 'Conan' book really does have a good timeline for Conan's life. 'Monsters' may be gorgeous but it is not an exercise in academic study. 'The Star Fleet Technical Manual' is weird slice of the past's future, a prediction of how a river will run that is charmingly incorrect. Some of you will want all three of these books; some will want one or the other or the other. Some will sneer at the very notion of coffee table books. As a one-time parent of toddlers who snatched anything that might ever have been on a coffee table away, I sneer at the very notion of a coffee table. The books that are designed to live upon one, however, have a special shelf of their own.