---
---
My Life in the Bush of Books Part 3

From 'The Night Land' to 'The Jungle'

The Agony Column for August 5, 2002

Commentary by Rick Kleffel
| | |
| --- | --- |
| | |
| 'The Night Land' Volume 1, which I bought at a Lucky's store in West Covina in 1972. | Volume 2 of 'The Night Land', which has the same image as Volume 1, but 'flipped', that is reversed. |
When you buy a lot of books, or spend a lot of time and attention finding books, sometimes it seems that they find you. Recently, I'd been reading in a Usenet newsgroup about a book I owned but hadn't read -- 'The Night Land' by William Hope Hodgson. I'd been interested in Hodgson since 1972, when I bought the Lin Carter edited Adult Fantasy version of the novel, which is split into two volumes. But despite my interest back then, I'd never actually read them.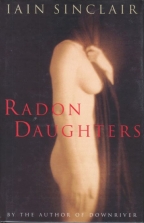 'Radon Daughters' by Iain Sinclair features a supposed sequel to the William Hope Hodgson novel 'The House on the Borderland' as part of the plot.
In 1994, I bought a novel that interested me titled 'Radon Daughters', by Ian Sinclair. Sinclair has since gone on to become a rather well-known writer on the subject of London. His claim to fame, a novel titled 'Downriver', is still available, and mentioned on the back of 'Radon Daughters'. 'Radon Daughters', on the other hand is out of print and not even listed in the on-line bookseller summaries for the author. The story involves the novel 'The House on the Borderland', Hodgson's most familiar title. A purported sequel to the novel is central to the action. So, dutifully wanting to actually read 'The House on the Borderland', I set about looking for it -- and couldn't find it. There were rather expensive early and first edition copies floating about on the Internet, but my resolve faltered and I found other novels to close the gap. 'Radon Daughters' (which still looks rather good) was filed away on a shelf in the hallway, then other books were filed in front of it. In a series of hesitations and false starts, it fell off the map.
Eight years later, as I read with interest about 'The Night Land' on Usenet, the very mention sent me to the bookshelves, where I unearthed the Lin Carter editions. Still, 484 pages of fragile paperback are a big chunk out of my reading schedule. Plus, the general opinion seems to be that much of 'The Night Land' is marred by bad imitation archaic prose and a sexist sentimental romance. But the Lin Carter books are nice, so I kept them out of the depths of the stacks.
When I take my son to downtown Santa Cruz for his guitar lessons, I have a half hour to do as I wish. This gives me just about enough time to hoof it up the street to the used bookstore. It's a huge, old space, with the feel of a 1970's era high-ceilinged airy warehouse. Downstairs, on two fat sets of wooden shelves, are the used SF and horror hardcovers. Every week I browse them and to my surprise, I've found quite a bit of great material there.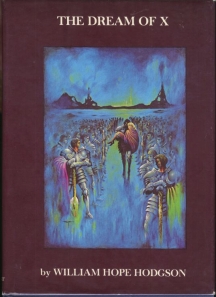 'The Dream of X' is one of those peculiar finds that pop up with wonderful regularity at one of the local used book emporiums.
Thus it was that earlier this week, I found myself staring at the shelves and wondering if that tall, thin book by Hodgson titled 'The Dream of X' was by William Hope Hodgson. Yes, in fact, it was. But wait -- there's more!
It's a $20 hardcover with a near fine DJ in a Demco library wrap. It's a Donald Grant publication from 1977, with an introduction by Sam Moskowitz. I don't know how many anthologies had passed through my teenaged hands with that name emblazoned somewhere on the cover of a book. I was pretty familiar with Hodgson's works, so I was curious as to what precisely 'The Dream of X' was and whether it would be worth the money. I picked it up, put it down, then picked it up again and read the introduction. I was just about able to pull up my jaw and stop drooling by the time I finished.
In the introduction, Moskowitz tells a to-die-for story about genre publishing. When Everleigh Nash and G. Bell & Son published 'The Night Land' in 1912 in England, a work published in England could only be copyrighted in America if an edition had been typeset and printed in the United States. Apparently, the author had to pay for his own printings, and with 'The Night Land' being such a lengthy work, William Hope Hodgson could not afford to have it printed, and thus copyrighted in the United States. Hodgson's solution to this turns out to be pretty exciting to anyone who has ever wanted to read 'The Night Land' but been challenged by the length -- and idiosyncrasies -- of this work.
'The Night Land', weighing in at 200,000 words was carefully edited and revised by Hodgson himself, and condensed down to 20,000 words. The new, compact version of the novel was titled 'The Dream of X', purporting itself to be "charred fragments...discovered in an iron box, after the burning of his ancient country residence..." This is no mere synopsis. Hodgson actually put together a narrative that preserves the essence and feel of 'The Night Land', but is precisely ten times more readable. If it were the only version of this work to have been published, it would have had a lot higher profile.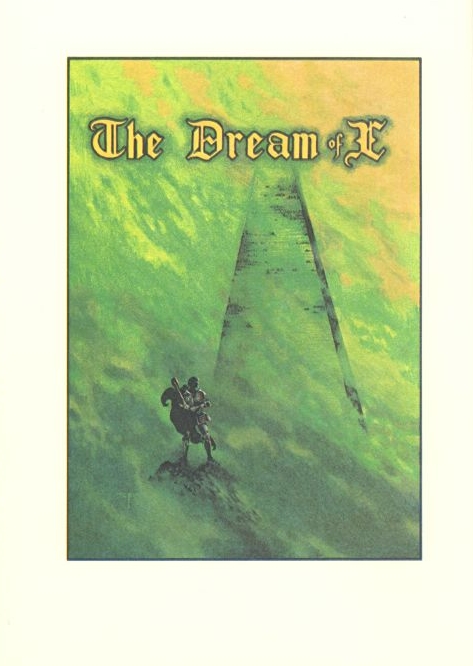 This illustration by Stephen Fabian from the fontispiece of 'The Dream of X' by William Hope Hodgson is one of many gorgeous color plates from this 1977 Donald M. Grant Publication.
Having completed this masterpiece of self-editing, Hodgson then paid his editor in the United States to have it published and copyrighted in a book with 84 pages that included 13 poems, and a long novelette titled 'Mutiny', shortened from a serial published that year. The actual print run was probably quite small. I can attest that no copies showed up in the quick web searches I ran. Apparently, there were enough copies made so that Moskowitz was able to find one and have it typeset by Donald M. Grant. And thus is a very interesting hardcover edition born. But wait -- there's more!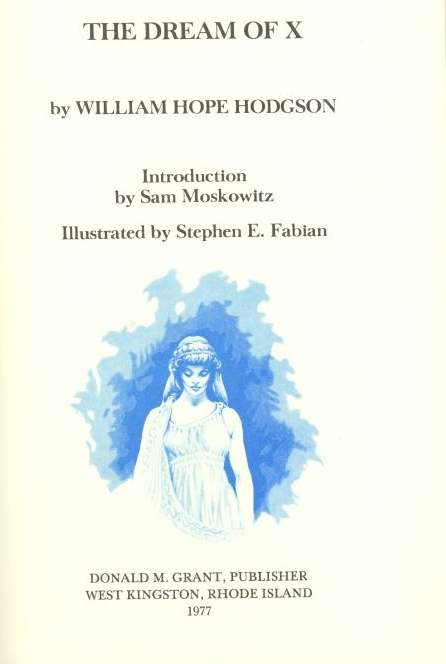 This title page is the tiniest bit crooked because I was loathe to wrench the spine of a 25 year old hardcover. If you're going to publish a markedly romatic novel it surely helps to have Stephen E. Fabian illustrating your publication.
It's 1977. The U. S. is swinging on the moon. A pirate story in spaceship drag is doing huge business at the box office. Science fiction is big business and science fiction art is an equally big business. Stephen Fabian is a well-known artist, whose work probably adorns a number of paperbacks unfortunately rotting in garages or bookstore shelves across the nation. Donald M. Grant hired Fabian to do 14 full-color plates, a cover, endpapers and various B&W illustrations. They're gorgeously printed and laid out. The type in this novel is 14 point Baskerville, set by AlphaComp. 25 years later, it still looks gorgeous.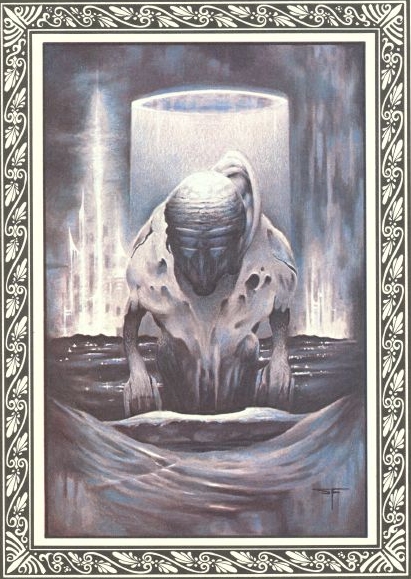 This is one of five malignant presences rendered by Hodgson in prose and Fabian in full color.
So, yes, I admit, I bumped something out of the queue (Tahir Shah) for a moment, just to read and luxuriate in Hodgson's work. Now, there's a reason why writers are not often their own best editors, and perhaps that's apparent in 'The Dream of X'. But this book is pretty readily available from various used vendors for under $50. If you are a serious reader of SF, horror or fantasy, and want to have more than a clue about one of the most well-known progenitor novels around, then it's certainly worth the search. But wait -- there's more!
| | |
| --- | --- |
| | |
| Night Shade Press published this low-key novel of terror by Tim Lebbon. | '...And the And the Angel with Television Eyes' is John Shirley's psychedelic Night Shade novel. |
Night Shade Books is currently preparing a set of five volumes comprising all of Hodgson's writings. You can find out much more about this at their web site, but we can certainly thank Jeremy Lassen and his crew for making sure that nobody has a wait of seven years searching for an edition of 'The House on the Borderland' to read before reading 'Radon Daughters'. I've checked with the editor, and I am assured that the text of 'The Dream of X' will be included in the volumes. If you've not seen any Night Shade books, you need to buy just about anything they publish that strikes your fancy. They're high-quality, small print run editions by top-notch authors. Books I've reviews of include Tim Lebbon's 'Face' and John Shirley's '...And The Angel With Television Eyes'; both come highly recommended. From what I can tell, it appears that Lassen is using Moskowitz as his guide, so you should even be able to pick up 'The Dream of X' somewhere in these fine books. But wait -- there's more!
| | |
| --- | --- |
| | |
| The US cover of the ultra-loanable 'Carter Beats the Devil'. | The UK version of the 'Carter Beats the Devil' has a nicer cover but no color illustrations within. |
In my previous visit to the used book store in Santa Cruz, I had seen a US edition of 'Carter Beats the Devil' sitting in the 'inbound' stack. This time around, I decided visit the shelves to pick it up. I had recently loaned my UK version to a friend, who had read and enjoyed it. I think it's safe to say that 'Carter Beats the Devil' is a very easy book to like. You can safely buy it for a friend and there's a good chance that they'll enjoy it. As I was picking it up from her, another friend chanced to pass and commented that he was out of reading material. And thus, it went from one set of hands to another with nary a chance to stop back home. So, when the opportunity to purchase another hardbound first edition presented itself, I took advantage of fate's offer. I'd been interested in owning one in spite of my dislike of the cover art. I much prefer the cover art for the UK edition.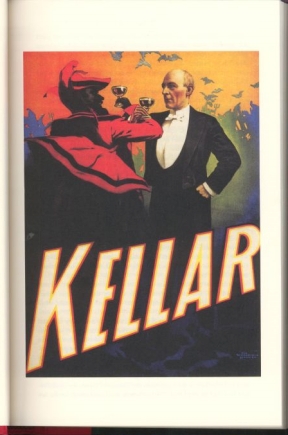 An actual page from an actual book. If you buy 'Carter Beats the Devil' for someone who actually reads books, the chances are that they will be genuinely grateful.
But of all those pesky reviewers I'd read who commented on how much they enjoyed the novel (and one even the cover!), nobody had mentioned that there were some very nice full color plates of the magician's posters inside the novel. It's possible that they didn't actually look inside, of course. I know what's important, and I bring one of them here to show you. If you own the UK edition, then this addition in the US edition makes a used copy worth searching out. Then you can loan it to two people at once! Watch the bookstore owners and publishers go ballistic at that advice. But, as with CDs and DVDs, to my mind book loans result in more sales of books than advertising and reviews put together. Loan a friend a book today. But do write down what you loaned and to whom you loaned it.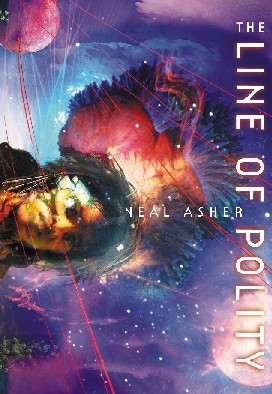 Neal Asher has this novel and another ready for publication. They can't come fast enough for me. Fortunately, there's a backlog for the needy reader.
Soon enough, you won't have to loan your friends the expensive UK copies of Neal Asher's fabulous novels. Tor is bringing out 'Gridlinked' and 'The Skinner' in US editions in the indeterminate future, and it's a fabulous move by this powerhouse publisher. In the meanwhile, Asher's completed two, count 'em two sequels to these wonderful books. I found Asher's work to be quite addictive. It's deceptively simple and easy to read, yet he builds up complex ideas and concepts and plots while the reader is busy enjoying his well-imagined scenery. He just forwarded me the cover art for his latest novel, 'The Line of Polity', which we'll have to wait until March of next year to actually read. When Tor publishes his first two novels in the US, the UK versions are probably going to become fodder for bibliophiles, so you might want to consider ponying up the postage and currency conversion to get them now. There is also a decent size backlog of his work you can find with a bit of searching, and it's worth searching for.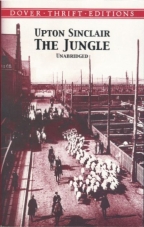 From Iain Sinclair to Upton Sinclair -- a new generation of teenagers hanging out at McDonalds needs to read this novel of meat processing and social change.
Finally, there's the mind-boggling deal of the century -- Upton Sinclair's 'The Jungle' in a decently sized trade paperback for 3 bucks. You heard me right -- three bucks! My oldest son is being press-ganged by his high school to actually read a book over summer vacation, and I volunteered for the purchasing duties. I found a ratty used paperback for $2.50 in the same store where I found the Hodgson and the Glen David Gold novel. It was in pretty cruddy shape, so I decided to see if I could find a used hardcover when I came upon a Dover Budget Edition. Cheap paper to be sure, but still, brand new, not smelly, bigger print, and overall a much better deal. It's nice to see the classics being kept within the budgets of the ever-less-literate masses. We need books like 'The Jungle', especially now as a corrupt corporate mentality conquers the world of business. Government leaders promise to run the country like CEOs, and say that like it's a good thing. Perhaps as long as Upton Sinclair is available for the same price as a Happy Meal, there's hope. Like many readers, I much prefer the Unhappy Meal offered by Upton Sinclair. And after reading 'The Jungle', the Happy Meal won't seem so smiley to those teenagers hanging out at the fast food joint.
Yes, it's my life in the bush of books. I'll be back later this week with a look at Adam Roberts new novel 'Stone' -- and all his others as well as an interview with the author. In the interim, buy a book for a friend.
Thanks,
Rick Kleffel